World Pilots' Day
To celebrate World Pilots' Day, we are sharing some of our members' stories and their experiences of what being – or becoming – a pilot means to them.
Claudia Kracher says:
I am thrilled to be celebrating the achievements of fellow aviatrices on World Pilots' Day! I, like many, cannot wait to get up among the clouds once again – especially after nearly 12 months on the ground dreaming of doing just that!
As a PPL student at Leicester flying the Cessna 152, the easing of the restrictions means I can work towards completing my qualifying cross country and skill test over the coming months. I am excited to complete my PPL, as it is the first milestone in my journey to the flight deck and becoming a captain. It is with unfaltering commitment and tenacity that I work to achieve my ultimate goal of gaining my wings and operating a commercial airliner. As a female, I am passionate about promoting aviation among young women nationally and hope to become more actively involved with the Aviatrix Project over the next 12 months.
Hannah McCann says that she has just been accepted as a pilot in the Fleet Air Arm. She has had an exciting experience with a variety of aircraft to date and is currently completing her PPL(A) at Cotswold Airport. Her route into aviation was via the Air Training Corps and Southampton University Air Squadron.
In her spare time, she volunteers as ground crew on a T6 Harvard – the 'Wacky Wabbit' – soaking up all the engineering and maintenance knowledge she can. To date, her favourite aircraft she has had an opportunity to fly include the Tucano and an Estonian Air Force R44.
Jayne Stubbs says:
I am an ordinary 50+ year old woman who has just started PPL training. I really can't believe I am doing this; it's amazing! Friends said I should take lessons because I'd gone on endlessly about my experience flight. Now I go on endlessly about my lessons.
It's those little things that make it so real in the first few hours of training; I get to do the checks, shout "Clear prop!", and then taxi the aircraft. I am told, "You have the brakes" and in the air "You have control". Really? Me?!
Why am I so pleased that my trimming is good and that I can remember the airborne checklists? Let's just hope I have retained the details after nearly four months of lockdown. I haven't gone solo so I'm not a pilot, yet, but I am a woman who is addicted to flying.
Saskia Riddle says she is on her journey to fulfilling her dream of becoming a pilot, at age 16. At school, she enrolled as an RAF Air Cadet and loved doing aerobatics with them. She is now a Lance Corporal. Saskia has completed all her PPL ground school and is hoping to finish her flying hours as quickly as possible. She says: "At the moment I am trying to decide what to do after A levels and which way I'd like my journey to progress, but whichever way I go, I want to fly the skies."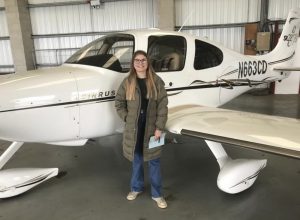 Jenny Dorward says:
I am a new member of the BWPA and I only started learning to fly last year! I have always dreamt about flying and in my dreams, I am using just my arms. Learning to paraglide was the nearest thing I could think of which would enable me to feel this. However, I then discovered paramotoring. I went along for a taster weekend but was hooked within a few hours. Since then, I've never looked back – it has become a bit of an obsession! I've met loads of great friends through it, have flown in Portugal, and have recently bought all my own kit. I currently work in South America, but I can't wait to come back to fly in the UK.
Ute Bergk says she is 'very much a newbie' to flying. On the day of her 55th birthday, her partner presented her with a surprise voucher for a flight in a Piper Warrior. She flew over a film set nearby, which was fascinating for Ute, as she works in the industry. She looks forward to being able to fly to visit her parents in Germany, as it currently takes a whole day via car and ferry. Ute says flying is cool and keeps her sane!
Olivia Brown says:
My passion for aviation started on an RAF Air Cadet Air Experience Flight at RAF Cranwell in 2016 – aged fifteen. Since that moment, I knew I wanted to be a pilot! My sheer devotion to aviation in the air cadets rewarded me with a silver gliding scholarship and a 12-hour Royal Air Force Association (RAFA) Scholarship. The following year, I became a key worker and self-funded my PPL.
I am now studying for a degree in Air Transport with Commercial Pilot Training at Buckinghamshire New University. I have also been fortunate enough to be accepted into the Oxford University Air Squadron which will provide me with even further opportunity to fly and build skills in teamwork and leadership. Now, being a member of the BWPA, I feel as if I am part of a positive and supportive female community no matter where I am, which helps me feel more confident and even more ambitious.
Compiled by Claire Hatton