Restoring my dad's glider in his memory
Dad got me interested in aviation through his love of gliding. I started flying myself in 1999, when I was 10, and spent most of my teenage years on the airfield. On my 16th birthday I flew solo for the first time, and then converted from two-seater to single seat gliders. Eventually, my dad allowed me to fly his glider, a Ka6CR called Bymbo.
Bymbo's name comes from her original trigraph registration – BYM. Bimbo is also the name of Betty Boop's dog, so Dad's flying mascot was a Betty Boop and Bimbo model. Having been built in 1966, Bymbo is considered a vintage glider, and she has an interesting history of owners and adventures.
At the end of 2016, Dad was diagnosed with terminal cancer and he passed away in late April 2017. We had disagreed about Bymbo in his final weeks as he planned to sell her, but I argued that she was part of the family and I wanted her. Ultimately, Dad agreed to sign Bymbo over to me as my inheritance when he realised how much she meant to me.
Bymbo had not been flown since 2014, as Dad hadn't been flying her and then became ill so lost his medical. This meant a lot of missed maintenance over the years.
The biggest concern was missed inspections of the glue in the joints in the wings, tailplane, rudder and fin, which are meant to be carried out every three years. Wooden gliders are made using several different types of glue, and one called Kaurit has longevity issues caused by high humidity and ageing. In 2013 a glider had an inflight failure of deteriorated glue joints due to tension and torsion during an aerobatic manoeuvre, causing the right wing to break up, so it is a serious concern.
To inspect the wings, holes are cut in the fabric outer layer, a borescope is inserted to examine the rib joints and then feeler gauges determine if the spar joints are serviceable. The same is done to assess the rudder and elevator. Thankfully, Bymbo passed her structural inspections, mainly due to the major rebuild she had in 2000 after she was flown into a tree!
Unfortunately, there were other problems. The torque tube connecting the control column to the control rods had significant corrosion. It had to be removed and sanded down before it could be etch primed and repainted. The seat was cracked and all the fixings needed replacing. The control cables had to be changed as they were corroded in several places. The shoulder harness buckles had rusted and the fabric straps were fraying.
Due to regulation changes the old maintenance plan was invalid. As a licensed aircraft engineer, I am familiar with airworthiness directives, service bulletins and other regulatory requirements. So rather than pay for an inspector to draw up a new plan, I did it myself saving hundreds of pounds. Finding the information required to build a maintenance schedule was easy, but time consuming. The new maintenance plan allows me to easily track when maintenance is due by calendar date, flying hours and number of launches.
The next part of the project was the trailer, which had been stored outside and not looked after for years. I did a few basic repairs, including replacing tyres, filaments (bulbs) and the electrical connector to the car. I then towed it 500 miles to take Bymbo to Bicester for storage and the trailer to a carpenter for a rebuild. I later found out that, given its condition, the trailer should not have managed five miles, let alone 500! What began as a small repair quickly escalated into a major rebuild. With every panel the carpenter removed he found more rot – the photos were horrifying.
Bymbo had her first flight in five years on 6 June 2019, two years after she was signed over to me. I burst into tears as I watched the launch; I had thought I would never see her fly again. Although there was an experienced pilot at the controls, I watched with a knot in my stomach until she landed safely. I then took my first flight in Bymbo in 15 years, a wonderful moment that brought back so many memories of Dad. A friend made a vinyl decal to put in the cockpit so that Dad can stay flying with Bymbo.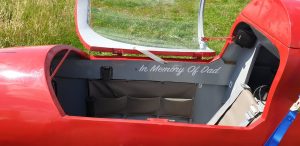 There is still plenty of work left to do, but Bymbo is now airworthy and I can once again enjoy flying her.
Steph Smith – B1 Licensed Aircraft Engineer