My happy memories of Freydis Sharland
GB Air Racing Champion, Spitfire pilot and the BWPA's founder chairwoman; Freydis Sharland passed away six years ago today.
BWPA Archivist, Beverley Harrison, shares her memories.
I first met Freydis when I was lucky enough to host her at a Girls' Venture Corps (GVC) National Festival in Walsall in 1981. The GVC also hosted Sheila Scott the same year, as another key aviatrix. I knew of Freydis in general, but only in her often-understated terms. When I commented to her that I was just reaching the end of my RAF professional training, Freydis referred to flying Spitfires during and after the Second World War. She indicated her ATA service, that she described as "just four years of a longer flying service". It was a shock to me and, following our meeting, I spent much of my study time during RAF service researching such under-publicised pilots; my respect for them grew and grew.
I understood that she was the GVC's Aviation Panel Chairwoman, who had been recently operating the GVC's aircraft in order to fly cadets. It was a huge and indeed unique contribution to women wishing to fly in UK – what an encouragement to the cadets to see a lady in the same uniform fly in and then fly cadets all day, in the same aircraft!
Freydis was always modest, and never mentioned that additional to Women's Junior Air Corps and GVC flying she had served as a pilot in the WRAF VR (Reserves) in the late 1940 and early 1950s, and earning, but not collecting, her RAF 'Wings'. She was GB Air Racing Champion in 1954, and I have been unable to find records of any other female champions before or since. This win was just one year before the foundation of the BWPA, it was truly no wonder that she was our first chairwoman – albeit for only one year – she then married and her family naturally came first.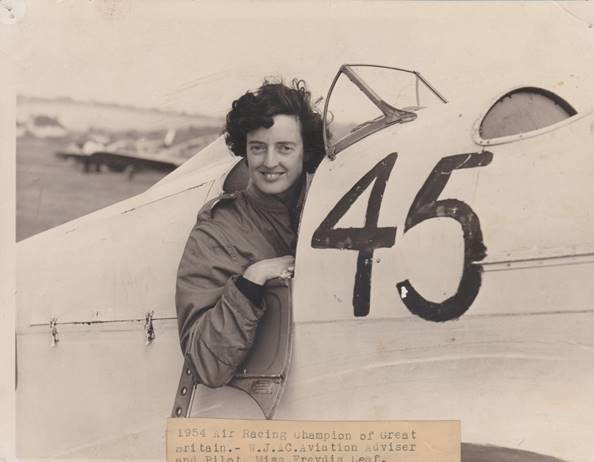 Some 19 years after my lucky meeting, Freydis was at the GVC's 2000/Millennium Camp in the Midlands. I had flown my microlite ('Florence the Hangar Queen') to camp to avoid bank holiday traffic and Freydis, as a recently former microlight pilot, was keen to see her and help me. She also mounted guard over a helicopter flown into the same camp by BWPA members Helen Krasner (editor) and Janet Higginbotham (chairwoman). Freydis was truly an inspirational aviatrix. This was all before the formal STEM initiatives that are around today.
Keep flying high Freydis – you will not be forgotten.
Beverley Harrison – BWPA Archivist