Eleanor Wadsworth of the ATA 'Spitfire Women'
In recent years, the role of the Air Transport Auxiliary (ATA) has become better recognised and the 'Spitfire Women' have captured later generations' attention and respect.
Eleanor Dorothy Wadsworth (née Fish) was born on 15 October 1917, and raised and educated in Nottingham. She became an architectural assistant for the construction of facilities for the new Ferry Pools of the ATA in 1941. ATA pilots were based at 14 different Ferry Pools, including Hamble (Southampton), Whitchurch (Bristol) and Ratcliffe (Leicester), and as far north as Lossiemouth.
In the early 1940s, the ATA needed more pilots and were recruiting untrained applicants. Eleanor applied, passed her medical and physical checks, and was in the first six accepted from ground entry for the ATA. In June 1943 she began her flying training on Miles Magisters at the ATA Initial Flying Training School at Thame. She recalls the apprehension before her flight training and the "sensory overload of being out in the open in the Magister". From the Magister Eleanor moved on to flying the Hawker Hart Trainer, her first experience of a big 22.6 litre V12 Rolls Royce Kestrel engine.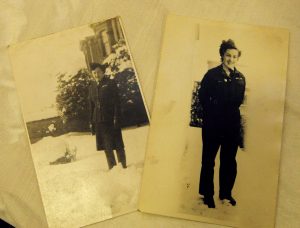 From September 1943 Eleanor operated as part of No.5 Ferry Pool, learning to plan routes, checking weather, plotting safe courses and making sure that the route avoided barrage balloons – not a navigation hazard we are used to having to avoid these days. One of the flights Eleanor remembers in particular was a delivery flight in December 1943 ferrying a Fairey Swordfish. "Trussed up in my Irvin jacket" she flew in the open cockpit from High Ercall, Sherburn, Dumfries and on to Macrahinnish.
In February 1944, Eleanor converted to the North American T6 Harvard, which enabled her to progress to flying and delivering fighters. Eleanor flew her first Hurricane on 2 March 1944 at Henlow after being checked out as ready by her instructor Ian Lead.
"He said to fly one circuit, to make sure of my approach and to make sure I kept on one side of the chimneys."
Eleanor started to deliver a number of Hurricanes from the Hawker factory at Langley (Slough), starting with LF700 on 15 March 1944.
On 18 May 1944, Eleanor flew a Seafire, 1C NX987 – the naval version of the Spitfire – from Hamble to Henstridge where the Fleet Air Arm were carrying out deck landing training. The following day she ferried Spitfire Mk.V N3638 from Brize Norton to Lee on Solent, followed by two more Spitfire Mk.Vs two days later, and the day after had her first flight in the Mk.IX Spitfires in ML358 and ML371. This was a rapid introduction to what Eleanor regards as her favourite type. She recalls that the Spitfire "was so perfect to handle, just lovely and flew like you would want it to".
From October 1944 until September 1945 Eleanor was based at Ratcliffe on the Wreake. In just one month she flew ten different types of aircraft, including 20 Spitfires. An ATA pilot cleared on more than one class of aircraft could be asked to fly any aircraft in any category on which he or she was qualified – almost unthinkable today without individual conversions-to-type. ATA pilots often collected aircraft they had never even seen before, let alone flown, aided by a small 'ATA Types' book. Eleanor still has original ATA Ferry Pilots' Notes, which record that along with 28 Hurricanes and 132 Spitfires she also flew aircraft including Defiant, Argus, Anson, Auster, Oxford, Proctor, Dominie, Martinet, Reliant, Master, Mustang and a number of Fleet Air Arm types like the Hellcat, Swordfish, Albacore and Barracuda.
"There was no heroism, we all had a job to do and it was my good fortune to have what was a very enjoyable job.  There was no harassment or prejudice, no taking advantage. I was one of the guys".
Eleanor recalls that there were 1,152 male pilots and 168 female pilots in the ATA.
"I was part of an exclusive wartime sisterhood, a group of courageous, individual gifted women, who in very dangerous circumstances delivered a huge range of types of aircraft to service squadrons. [The ATA] was a fantastic organisation and it was incredible that it…had grown from nothing at a time when the RAF could not cope by releasing pilots to collect aircraft from the factories".
Besides the opportunity for women to fly front line service aircraft, something that had not existed before the ATA, Eleanor recalls with pride that in the present day – with pay equality a frequent issue in the press – "what is often forgotten is that we were the first to get equal pay for equal work. We were years ahead of our time in what we did but also how we were paid like for like". As acknowledged by Helen Scharder in her book Sisters in Arms, in the American Women's Airforce Service Pilots (WASPs) their pay was only 65% of the men in the unit.
By the time the ATA was wound up in November 1945, 309,000 aircraft of 147 types had been ferried by 1,245 men and women who came from 25 different countries. After the war Eleanor married and moved from the ATA to start a home and raise a family and, now 101 years old, is a great-grandmother.