Behind the scenes of a Multi-Crew Pilot Licence
Many Multi-Crew Pilot Licence (MPL) students have been badly affected by the COVID-19 pandemic. Abbie Croft, BWPA member and a qualified MPL pilot, shares her journey to the flight deck .
How did you get into flying? 
My father likes to remind me of the time we were going on holiday and, as we took off I asked, "Daddy can I drive the plane?" For as long as I can remember I have loved flying and that feeling at take-off.
However, I didn't consider actually becoming a pilot until I joined the University Air Squadron (UAS) whilst studying aerospace engineering at university. Until then, I hadn't met any female pilots or considered being a pilot as a career option. The UAS is an incredible opportunity. I learnt to fly while studying for my degree and was taught by some of the RAF's best pilots (even a Red Arrow!). After finishing my master's degree, I decided commercial flying was for me, which is when I successfully applied for the Flybe Multi-Crew Pilot Licence (MPL) course.
What is the MPL course and how does it differ from the Airline Transport Pilot Licence (ATPL)?
The MPL course was created to train a complete novice to become a competent commercial first officer. It is not designed to produce a pilot that can fly any aircraft, but specifically to produce multi-crew pilots that can complete their tasks sat in the right-hand seat of a commercial airline.
The main difference is that an MPL allows the holder to operate solely as a multi-crew pilot as the name dictates, whereas an ATPL allows you to operate as a pilot for an airline, private jet, police force, search and rescue, or local flying club! Essentially the ATPL gives you more options as you can operate as a single pilot. The MPL course is designed to completely prepare you to walk into your first day on the job for an airline. Halfway through the MPL course, student pilots start training as multi-crew, to best simulate an airline environment. You also learn the airline's standard operating procedures, and training is usually in the simulator of the aircraft you will be flying. In comparison, the ATPL course is completely single-pilot training, with an extra Multi Crew Cooperation (MCC) course at the end.
The MPL and ATPL both get you to your end destination, just via different paths.
Why did you choose the MPL course? 
I chose the MPL as it was a direct route with a guaranteed job at the end, on the Dash 8-400, which I really wanted to fly. I was attracted to the course as it was focused on airline flying and most of the training was in Boeing 737 simulators, specifically preparing for the job as a first officer.
It is very important to choose the course that suits you and your goals for becoming a pilot. There are many routes to the flight deck: MPL, ATPL, modular and integrated. Make sure to research exactly what you are getting from your flying school and whether that aligns with your career aspirations.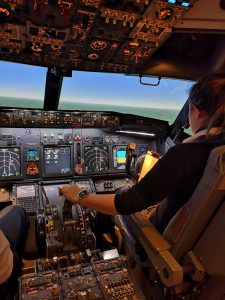 How has the pandemic affected MPL pilots?
The pandemic has devastated the airline industry, and MPL pilots have faced specific difficulties. The MPL licence is only valid if all training is completed and you end up flying for the airline. As airlines stopped recruiting and training because of the pandemic, many MPL cadets did not manage to finish their training and so were not fully licensed on that aircraft. This meant that they found themselves having almost completed pilot training, spent a lot of money, but with nothing to show for it.
Having never faced this problem before, the CAA created a new licence for those MPL students, which allows them to only perform cruise pilot duties until such time that they can finish their type rating and base training with the airline. Luckily, I managed to fly for Flybe for a year before I was made redundant, ensuring that my licence is valid.
What are you doing at the moment? 
After being made redundant from Flybe in March 2020 it was a mad rush to find a new job to ensure I had enough money coming in! I took up a job working in a sign factory, working my way up from the factory floor to eventually become the operations manager, controlling what went in and out of production. However, in the middle of February this year, I was offered an exciting role within BAE Systems utilising my engineering knowledge!
What are your hopes for your career when the industry picks up again?
My goal will always be to get back in the flight deck and fly for a commercial airline. I don't have a specific type of aircraft I would like to fly, although I loved the Dash 8, and would be happy to be back in control of any aircraft!
What does it mean to you to be a BWPA member? What do you think is the importance of the BWPA supporting women in aviation?
The BWPA is a vital organisation supporting women in aviation. It is run by a brilliant group of volunteers whose experience and passion for flying is unlimited. The BWPA provide support through scholarships, events and socials for every aviator at every level which is so important to grow our community. I am proud to be part of it and have recently volunteered to start up a regional group for the south, to connect, support and encourage our members in the area.
The support that the BWPA provides women in aviation is essential, as so many women don't have the confidence to even consider flying as a career path. Spreading the word and increasing the opportunities available is so important to encourage women to realise their goals.
Abbie Croft