A special flight in a Spitfire
I have been involved in aviation pretty much all my life. I worked for many years in flight operations and latterly in compliance monitoring. I held a Private Pilot Licence (PPL) for about 25 years and spent a couple of amazing summers towing gliders in a Super Cub.
During my time spent on the BWPA committee (approximately 12 years), I loved hearing stories of the Air Transport Auxiliary (ATA) pilots during World War ll. In March 2023, I suddenly decided that I did not want to go to my deathbed without having flown in a Spitfire. No, I'm not that old but you never know what's around the corner once you are over 60! I had read lots of accounts of WW2 ATA pilots and they all said that the Spitfire was their favourite aircraft to fly. I spoke to my friend Christina (who also used to have a PPL) and told her my thoughts. She replied, "That's weird, I said the exact same thing to my family at Christmas". So, we decided to go to Duxford Airfield and have a chat with Aerial Collective   who run flights there, as it is the nearest place to us in the UK where you can fly warbirds. We had a super day looking around the Imperial War Museum and chatting to Jack McBride, the manager at Aerial Collective, who was very helpful and showed us around the hangars. He showed us both Spitfires and a two seat Hurricane and suggested that one option was to fly in formation, with one of us in the Spitfire and one in the Hurricane. It sounded like a dream, but we needed to think about it.
In the end we decided that we wanted to fly in a Spitfire each and so two aircraft were booked for 13 June. A few weeks later a beautiful welcome pack arrived with a boarding card, information about the day and some emergency procedures to learn. Once June arrived, we were getting very excited.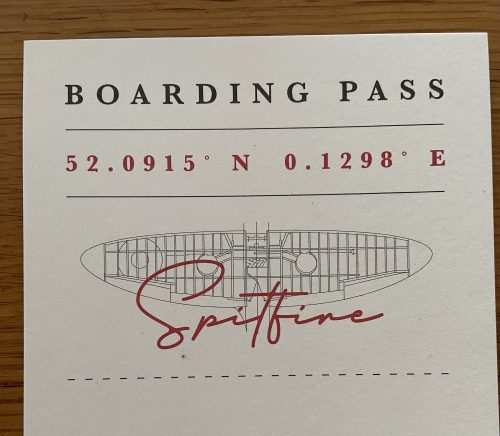 On the day of the flight the weather was perfect, with blue skies and a light breeze. You have the option to take a couple of guests to the museum for free and a further couple at a reduced entrance price. Friends and family are well catered for in an air-conditioned hut within a fenced off grass area, with free refreshments and a great view of the runway.
Christina and I and another client were taken for a safety briefing, which was very thorough and covered what to do in various emergencies, including how to undo the harness and open the canopy. We were then taken back outside to get kitted up in flying suit, gloves and helmet. We were introduced to our pilots – Christina was to be flown by Willy Hackett and I was to be flown by Mike Collett (the late Emily Collett's husband). We had a chat about what we wanted to do and what we wanted to get out of the flight. We agreed that we would take off in formation and do some tail chasing for five minutes, then fly separately for some aerobatics and to have a go at flying the aircraft ourselves.
We climbed in and got strapped into the parachute and then the aircraft itself. It is quite a small cockpit, and you are strapped in quite tightly, so might not be ideal if you are at all claustrophobic. The sound of the Merlin engine is fantastic when it starts up and even more so when opened for take-off. The departure in formation was just amazing. It really felt like you were back in WW2 departing for a mission. We went over and under each other, which was an amazing sight. We then separated and Mike flew a 'victory roll' followed by a barrel roll. I have not done any aerobatics for a long time and admit that I felt a little bit queasy. He then let me take the controls and I flew some turns, including some steep turns. The Spitfire really is so light and responsive, you only have to move the stick a small amount, and it did not feel like we were doing 220 kt. To be able to say that you have flown a Spitfire is an incredible feeling and such a privilege.
We then flew in formation over the village of Bourn and headed back to Duxford, passing over the Cambridge American Cemetery and Memorial just outside Cambridge with its crosses all beautifully laid out in huge curves. The flight back to Duxford was amazing, and we were so close I could see Christina's beaming face! We then made a low pass of the airfield before breaking off to land. The whole flight was 30 minutes in total, which does not sound that long but it was enough. I felt quite tired when we landed, even though I had not done much myself. By the time we had got out and had a short debrief and a drink, Jack had brought over our film of the whole flight on a memory stick each, along with a mini logbook with our flights in it. The video is recorded with two cameras, one forward and one rear facing, so it really captures a lot of the flight. There were also plenty of opportunities to take photos on the ground.
Afterwards, Christina and I could not stop smiling. It was a fantastic experience, and I can thoroughly recommend it – start saving now!
Nicky Rowan