2022 AGM and Festive Lunch wrap up
On 4 December we celebrated our first in-person AGM and festive lunch since 2019, at The Elvetham Hotel in Hampshire.
It was a pleasure to see so many members and their guests in person, after so much time apart. Many were meeting for the first time in person, which made the event extra special.
As well as an opportunity to socialise and enjoy a delicious lunch, it is at the AGM that we present our awards and scholarship certificates.
Our AGM was held in the beautiful Morning Room, with more than forty members attending either in person or online. This was the first time we have held a hybrid AGM, and we tried to make it as inclusive and engaging as possible for all attendees. Minutes from the AGM will be published in the members' area in due course.
After the AGM, we welcomed questions and comments from members and committed to publish them.*
We were then privileged to be joined by Rachel Gardner-Poole: pilot, mathematician, advocate for STEM, and much more besides.
With a strong background in aviation, science and technology, and leadership roles in IBM, the UK Space Agency and the Civil Aviation Authority, Rachel also chairs the Zero Emission Flight Delivery Group, which has been established as part of the Jet Zero Council partnership between industry and government to put the UK in a leading position in the race to achieve zero emission flight.
Rachel spoke to us about her work, her flying, being an advocate for change, promoting diversity and zero emission aviation.
After Rachel's presentation, those who were able to attend in person enjoyed a delicious three-course meal, and then the 2022 awards were presented by BWPA Chairwoman, Sharon Nicholson.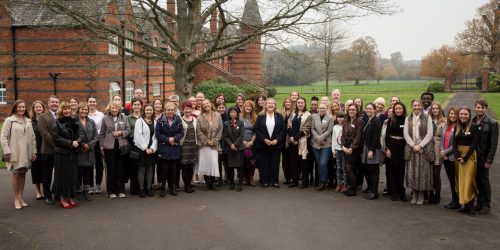 *The questions covered:
• A BWPA Instagram account – Instagram is a great tool for networking and sharing achievements, and we know some of our members are actively sharing their flying adventures on it. While several members have offered to set up and run a BWPA Instagram account, there are several other volunteer roles that are key to the running of the BWPA which need to be filled as a priority, including administering our scholarships programme. Once priority volunteer roles are covered, we are open to considering other ways to connect members. Get in touch if you would like to be considered for a volunteer role!
• Discount for committee members – on and off committee members were offered a discount of 25% and 50%, respectively, on the festive lunch to say thank you for their hard work over the year. Pre-COVID, all committee meetings were held in person and members attending were similarly offered a 100% free lunch as a thank you for their input and support. By moving to virtual committee meetings in 2020 the BWPA has saved significant funds that would otherwise be spent on in-person meetings, and felt this token of appreciation was a reasonable way to thank the volunteers, without which the BWPA cannot run.
We look forward to heading north for the 2023 AGM and festive lunch!